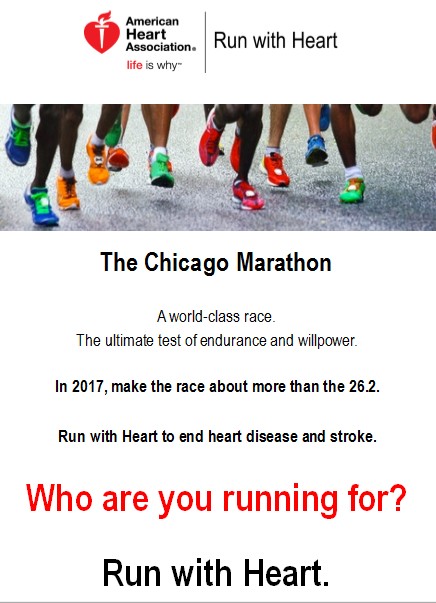 Run with Heart this fall and make your Bank of America Chicago Marathon about more than the 26.2. Join us for the 40th Anniversary race season—we'll see you on October 8th, 2017!
Runners who join a charity team commit to raising $1,500 for the American Heart Association's mission in the Bank of America Chicago Marathon. Our members receive: - Comprehensive in-person or virtual marathon training program with Chicago Endurance Sports - Personalized fundraising web page - Support from Teammates & AHA- Official American Heart Association Running Team dry fit shirt - Email newsletters with day of event information, fundraising tips, training tips and more - Special plaque designating your accomplishment
Members of the AHA's 2620 Club are committed to going the extra mile for our life-saving mission. Club members commit to a personal fundraising goal of $2,620 (or higher) to represent the 26.2 mile marathon, as well as the 2,600 Americans who die of cardiovascular disease each day. Club members receive the following additional benefits: - AHA Shoelaces- Special 2620 Club Member dry fit running shirt - Two "Cheering with Heart" Fan Club t-shirts for your supporters - Commemorative AHA pin for your Bank of America Chicago Marathon medal
Please contact Race Director Callie Wohletz if you are interested in joining the 2620 Club or if you would like to race with the AHA this season.
Race Partner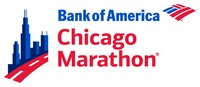 Training Partners