2018 America's Greatest Heart Run & Walk
Life is why

we walk.

Thanks to all our walkers, donors and volunteers who have accepted the challenge to help fight heart disease and stroke. We cannot achieve our mission without each one of you!
Date & Time

Check-In Opens at 6:00am

Where
Utica College
1600 Burrstone Road
Utica, NY 13502
Get Directions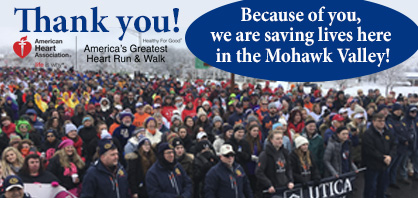 Thank you to all who participated in the Expo and Run/Walk events on Friday and Saturday and helped to raise over $931,000 to fund our life-saving work in the Mohawk Valley. You are helping to improve the cardiovascular health of our community, allow more people to be trained in CPR, fund more research, educate more children, inspire people to make healthy choices, and ultimately to save lives!

We know that many of you were unable to join us due to the winter storm and want you to know that your hard work in the months and weeks leading up to the event is important to us and to our mission. Please let us know if you were not able to attend and have funds to turn in.

We want to make sure your donations get collected and added to count toward your personal or team total. And just because the event is over, fundraising will continue through April 15th and will count toward your total and prizes! But most importantly it will count in supporting our mission. So continue to use the website and watch your totals rise!
Please contact us if you have any questions or need assistance:
Jaime.Evanoff@heart.org | 315-580-3960
Sarah.Stevens@heart.org | 315-580-3959
Tricia.Frattasio@heart.org | 315-580-3961