2018 Bergen-Passaic Heart Walk
Life is why

we walk.

Thanks to all our walkers, donors and volunteers who have accepted the challenge to help fight heart disease and stroke. We cannot achieve our mission without each one of you!
Date & Time

Check-In 9:00 AM
Starts 10:15 AM

Where
Express Scripts
100 Parsons Pond Rd.
Franklin Lakes, NJ 07417
Get Directions
We aren't just walking. We're Heartwalking! Thank you for joining nearly 1 million Americans at 305 events across the country to build healthier lives, free of cardiovascular diseases and stroke.
How can you make a positive difference in the lives of your friends, family and co-workers? Join the Heart Walk, start Heartwalking and make the commitment to lead a heart healthy life and become healthy for good. Remember- we're not only raising funds, we're raising heartbeats!
SIGN UP FOR A FREE HEART RISK ASSESMENT AT THE HEART WALK!
Prevention is at the heart of staying healthy; 80% of heart disease can be prevented. A free heart risk assessment performed by Board Certified Nurse Practitioners from The Valley Hospital can help you detect your potential risk for developing heart disease so that you can take the necessary steps toward prevention. The free heart screening includes a 10-year and lifetime ASCVD risk calculation. Educational materials aimed at reducing your risk will be given to each person who participates in this free heart risk assessment. If you are interested in taking advantage of this free heart screening, please call 201-447-8125 by October 2.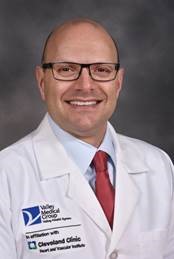 Dr. John Goncalves
Cardiac Champion
Director of Cardiac Surgery, Valley Heart and Vascular Institute, Valley Health System