ADDITIONAL INFO
Event Day Information
What to expect at the Heart & Stroke Walk. Schedule, parking details, and FAQ.
Our 2018 Heart Walk Sponsors
We want to give a heartfelt thanks to our generous sponsors!
Survivor Story
Meet Katrina, a volunteer and stroke survivor from Detroit.
About the American Heart Association
Learn about our lifesaving mission and how you can help us achieve it.
Local Forms and Tools
Helpful tips and local forms and resources
Volunteer at the Greater Maryland Heart Walk
Complete our volunteer form to sign-up!
Heart Walk Mobile App
Check out our brand new app!
Prize Information
Heart Walk Prize Certificate Redemption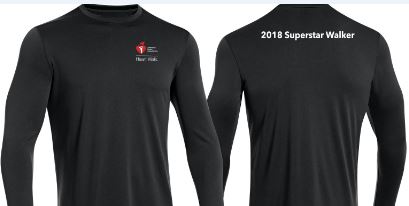 Raise $1,000 or more and you will be wearing this custom wearable at the Heart Walk this year!
CONTACT US
Want to contact our Heart Walk team directly? Reach out to us for general questions or sponsorship inquiries. We're around Monday - Friday from 8:30 am until 5:00 pm.
Katie Remenapp
410-246-6728
Email: katie.remenapp@heart.org
Rachel Guzman
410-246-6719
Email: rachel.guzman@heart.org
Eleanor Maranto
410-246-6707
Email: eleanor.maranto@heart.org