41 years in the making...

Presented by Alaska Heart & Vascular Institute
Welcome to 2019 Alaska Heart Run!
All money raised at the Heart Run will benefit the American Heart Association and will fund research and community programs that help to fight cardiovascular diseases and stroke.


Registration Fees
Early Bird: Now until March 24:

Adults: $25/timed and $20/untimed
Children: $10/timed and $5/untimed
Children 4 years and under are free
4 to 18 years old qualify for the children's fees

March 25 to April 14: $5 increase
April 15 to April 20: $10 increase
Bib Pickup Information
Bib Pickup will be at King Tech High School (formerly King Career Center) on the following days:
- Wednesday, April 17: 4:30 p.m. - 7:00 p.m.
- Friday, April 19: 4:30 p.m. - 7:00 p.m.

Participants may register for the timed and untimed 5K race or upgrade to the timed run at a bib pickup session.

You may also pick up your bib on race day, Saturday April 20 at the UAA Alaska Airlines Center Parking Lot.
How to Register
Volunteer
We are looking for volunteers to help us make the event a success. We are looking for volunteers at Bib Pick-up on Wednesday (4/17) and Friday (4/19), as well as Race Day (4/20). If you or someone you know is looking for a way to serve, sign up today!
Alaska Heart Run Merchandise
You can pre-purchase your Alaska Heart Run t-shirt when you register or at the Heart Run Bib Pickup or on Race Day.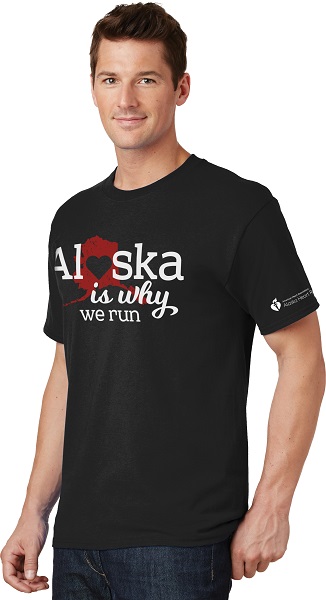 Heart Run Photos
View the 2018 Alaska Heart Run Photos on our Facebook Page