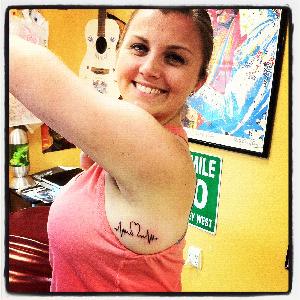 Welcome to my 2019 TCS New York City Marathon, Team Heart & Stroke fundraising page! I can't believe I'm even typing this butttt....I'm running the NYC Marathon!
My Story:
In January 2012 at the age of 31 I had a widow maker heart attack. At the time I was training for the Cincinnati Flying Pig marathon, which was going to be my first marathon. I attributed my fatigue and aches to my increased mileage and tried to push on. One morning I set out to run and barely made it a block. That weekend I was turned away from 2 urgent care facilities, even with active chest pain. It wasn't until 3 days later when I finally drove myself to the ER and had an angioplasty and stent.
Since 2012 I've worked with the American Heart Association to raise awareness and advocate for patients. I've started a blog, LifeAfter31.com, and have been fortunate enough to speak on various TV and radio outlets, be featured in Good Housekeeping, and even be on Dr.Oz. I continue to work on my mission to put a face to heart disease.
In 2019 I'm coming full circle. I will finally run my first marathon, in my home state and for an organization that has helped me through my recovery. Please support me through your donation.
‍Follow me on social media for regular updates on training and fundraising!
Insta/Twitter: @lifeafter31
YouTube: youtube.com/femmefash
$20 donation = thank you shout-out on Twitter/Instagram/Facebook
$50 donation = choose 1 song on my marathon playlist
$100 donation = 3 songs of your choice on my marathon playlist
Purchase a "heart and hustle" tee on my Bonfire fundraiser account. $ goes to my account page.
https://www.bonfire.com/hustle-and-heart/
Thank you in advance for your support. Love you all!
View More