http://www2.heart.org/images/content/pagebuilder/21Alaska_Run-AnchorageSkyline.jpg


Door Prize Winning Numbers

One Alaska Airlines Ticket courtesy of Alaska Heart & Vascular and Alaska Airlines
1159

Anchorage Fracture & Orthopedic Gift Basket
2103

Apple Watch courtesy of Providence Alaska Medical Center & GCI Communications
3214

2 Alaska Railroad Tickets courtesy of Seattle Children's Pediatric Cardiology of Alaska
4187


If your number, is posted please snap a picture of your door prize card and email it along with your name and phone number to Kristin.George@heart.org no later than Friday April, 30, 2021.
---
SATURDAY, APRIL 24th
9:30 am Facebook Kick Off Event

11:00 am Drive-Thru Rally for Registered Participants Only

Drive–Thru Rally Entrance:
East 40th Ave off of Old Seward Hwy

$40 - Run/Walk Participants
Youth under 18 are free, though donations gladly accepted

All registered participants receive:
The 2021 Alaska Heart Run & Walk Medal*
Raise or donate $100 + and receive the 2021 Commemorative T-shirt
All prizes and merchandise will be distributed at the Drive Thru Rally

The Alaska Heart Run & Walk Schedule of Events
9:30 am The Kick Off Facebook Event Starts
9:40 am Warmups with Eskimo Ninja Nick Hanson
9:45 am Alaska Ready, Set, Go
11:00 am - 1:00 pm The Drive-Thru Rally

Join us for the
Drive-Thru Heart Run & Walk Rally!
11:00 am - 1:00 pm at the University Center Parking Lot
Drive–Thru Rally Entrance: East 40th Ave off of Old Seward Hwy

Come Drive-Thru and Enjoy...
A Swag Bag* per vehicle of registered participants
Heart Radio Live Event Broadcast
The Drive Through Vendor's Row
Kids Fun Packs
Door Prize Opportunities Include:
Alaska Airlines Ticket
Anchorage Fracture and Orthopedic Gift Basket
Apple Watch
Alaska Railroad tickets

Also Receive:
The 2021 Heart Run Medals*
The Commemorative T-shirt if you raised $100+

About the 2021 Alaska Heart Run & Walk Digital Experience
2021 will mark the first year of combining the Anchorage Heart Walk with the Alaska Heart Run presented by Alaska Heart & Vascular Institute. This year we are taking the Alaska Heart Run & Walk to a whole new level, creating a one of a kind opportunity to be active and support a great organization.
Nothing unites us like doing good together! The Alaska Heart Run & Walk is a tremendous opportunity to keep hearts beating. The hearts of moms, dads, brothers, aunts and babies. This phenomenal event has always been about coming together, getting hearts pumping, honoring survivors, raising lifesaving funds – and having fun along the way.
If you walk with participants outside of your household, please remember to wear a mask and watch your distance. For more on how to reduce your risk, visit cdc.gov/coronavirus.


Thank you for your passion and dedication to our mission:
To be a relentless force for a world of longer, healthier lives.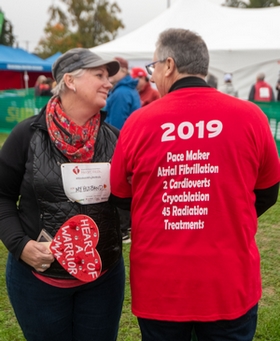 Make more moments possible. Life is made up of special moments – and every day is an opportunity to make more. We run/ walk to raise funds for science that helps us live longer, be healthier and make more moments possible.

With each step you will help cure heart disease and stroke. You will help millions of people celebrate more birthdays, fulfill more dreams and share more hugs. This is not just another finish line. It's a movement for the health and well-being of us all. We hope you will be a part of it.
*While Supplies Last