11th Annual Lawyers Have Heart 5k is in the books!
THANK YOU
to everyone who attended the 5k event on May 22nd.
We hope you enjoyed the race's new home at Boston's Cruiseport Terminal.
Fundraising is still going on, but thanks to all our sponsors, fundraisers, donors and vendors, we have raised over $450,000 to date!

WHAT AN AMAZING JOB!


SAVE THE DATE
June 25, 2019
for our 12th Annual event!
If you have any feedback about this year's event, we want to hear from you. Please email Allyson. Thank you for all you do for the AHA.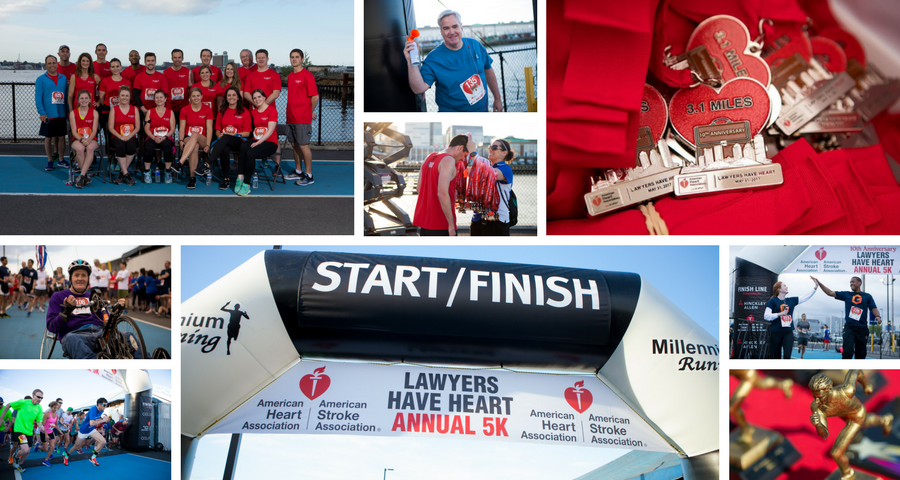 ---
A Message from Dave McGillivray
2018 Honorary Chairperson


---
#LHHBoston
---
2018 Executive Leadership Team
William Lovett, Esq.
Event Chairman
Partner, Hogan Lovells

Laura Angelini
Event Vice Chair
Partner, Hinckley Allen


James McGrath
SeyFarth Shaw

Brian Christie
Forensic & Litigation Consulting

Taylor Hart
Ropes & Gray




Brian Danilecki
Key Discovery

Eric Hines
StoneTurn Group, LLP

Paul McGowan, Jr.
MDD Forensic Accounting

Greg Naviloff
RSM US LLP

Tom Roach
Voya FA

Dan Janis
Davis, Malm & D'Agostine

Adam Valachovic
HaystackID

Mark Geise
Stoneturn Group

Pat Clendenen
Davis Malm & D'Agostine



David Barr
Eaton Vance

Josh Lanouette
Ernst & Young

Shaun Hutchinson
DTI Global

Anna Klimas
Conn Kavanaugh


Eric Marandett
Choate Hall & Stewart LLP

David Chorney
Barrett & Singal

Anusia Gillespie
Harvard Law School Executive Education

Laurin Johnson
Tempus Fugit Law LLC

Helene Horn Figman
Law Offices of Helene Horn Figman

Ellen Keiley
EMK Consulting Group LLC

Jean Sobarzo
BioWear

Robert Sparkes
K&L Gates