Raising Awareness | Fighting Stroke
https://www2.heart.org/images/content/pagebuilder/TedysTeamWebBanner.png
Welcome to Tedy's Team!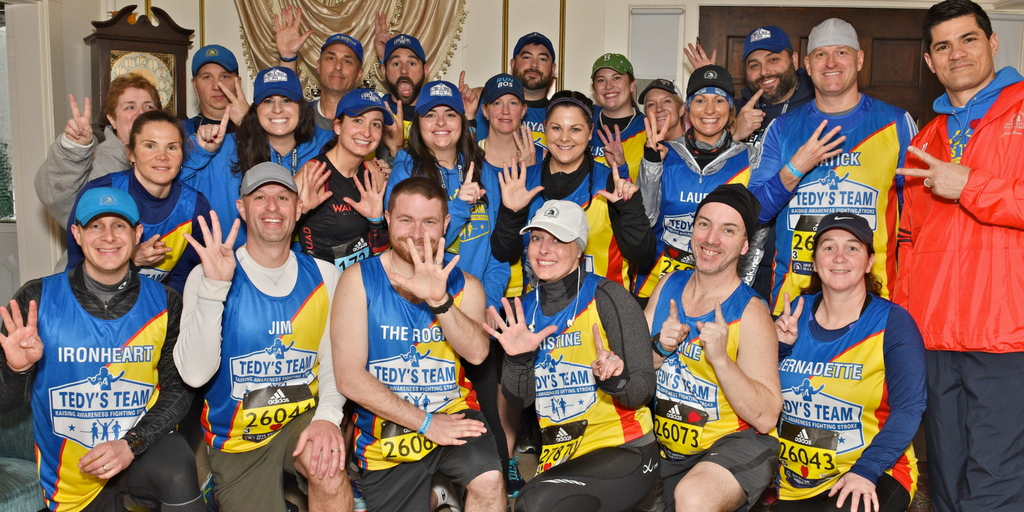 ---
WHAT IS TEDY'S TEAM?
Tedy Bruschi suffered a stroke in February 2005, at the age of 31, just weeks after winning his third Super Bowl and days after returning from playing in the Pro Bowl in Hawaii. As he recovered, Tedy committed himself to being an advocate, spokesperson, and inspiration for stroke survivors in our area.
Tedy created "Tedy's Team" and asked the American Stroke Association to partner to raise money and awareness for stroke. Tedy's Team is an endurance training team, a group of runners raising money for the American Stroke Association that train to complete the Boston Marathon®, the Falmouth Road Race and various other races around the country. Their participation supports Tedy Bruschi's fight against stroke and honors both the survivors and the loved ones lost to America's No. 5 leading cause of death.
In addition to the dollars being raised, an equally important issue for Tedy's Team is the increase in awareness of stroke and recognition of its warning signs. Tedy's Team is striving to reach as many people as possible in its message of recognizing the warning signs and acting appropriate when seeing them -- calling 9-1-1 immediately.
---
HOW TO GET INVOLVED
Applications for the 2019 Boston Marathon Team are officially closed.
Those chosen for the team will be notified via phone by October 30th. Those not chosen for the team will be notified via email no later than November 1st.
HOW TO DONATE
To make a contribution to a member of Tedy's Team, please click the DONATE link above and enter in the participants name in the search.
To make a general donation to Tedy's Team, please click on the DONATE button above and choose the "click her to give directly" link.
---
We are a proud 2018 Official Charity partner of:

---